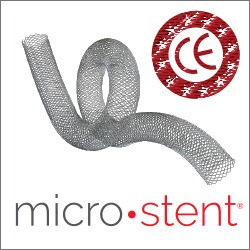 MicroStent (Micro Medical Solutions), a vascular stent designed to reduce below-the-knee amputations caused by critical limb ischaemia (CLI) resulting from peripheral arterial disease (PAD) has been implanted for the first time in the USA. The company received approval from the Food and Drug Administration late last year to begin a clinical trial evaluating MicroStent's safety and efficacy.
Co-principal investigator Robert E Beasley performed the first procedure in the trial on 25 April at Mount Sinai Medical Center in Miami Beach, USA. Beasley placed two 3mm x 40mm stents in the anterior tibial artery of a patient with CLI, fully restoring blood flow to a previously occluded vessel.
"We found implanting the MicroStent to be a very safe, quick, easy procedure. Using a retrograde pedal puncture, we used a small 3-French sheath to place two of these very low-profile, easy-to-deploy stents in the anterior tibial artery in about 30 minutes. Post-procedural ultrasound taken immediately, at 14 days and at one month showed a wide-open, unobstructed artery with excellent flow," explained Beasley. "By returning sufficient blood flow to the lower leg, we were able to ensure adequate oxygenation to the tissue. As a result, a wound on the patient's toe is now healing, and he is unlikely to require below-the-knee amputation. I'm hopeful that MicroStent will represent another tool to treat the devastating disease of CLI."
Beasley has since performed four more MicroStent procedures. Craig Walker, co-principal investigator in the study with several cases completed, oversees the MicroStent research site at the Cardiovascular Institute of the South in Houma, USA.
Walker noted, "With CLI, the ability to achieve patency in a vessel is paramount to saving both the vessel and the limb. Use of MicroStent, a self-expanding stent with great radial force and very little chronic outward force, has resulted in patent arteries with low probability of long-term stenosis. In fact, we have seen zero stenosis post-procedure on both ultrasound and angiography, and one patient remarked that dramatic pain relief occurred immediately after the MicroStent procedure. We anticipate that this critically important technology will continue to produce good outcomes and clinical results."
Micro Medical Solutions CEO Gregory Sullivan added, "Everyone at MMS has been working together toward this achievement. We are very excited not only about this milestone, but also about the progress and momentum we are showing toward approval of MicroStent in the USA. Ultimately, we hope MicroStent will fulfil its purpose to reduce preventable amputations and preserve patients' freedom and quality of life."
MicroStent received CE mark approval in Europe in 2017 and continues to be studied internationally, as well as through this clinical trial of MicroStent in the USA.