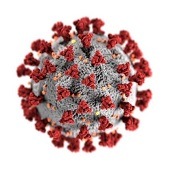 "Simple changes […] can allow for an effective vascular limb salvage service to continue during the extremes of the pandemic," Andrew Nickinson (University of Leicester, Leicester, UK) informed the virtual audience of the 2020 UK Vascular Societies' Annual Scientific Meeting (VS ASM; 24–27 November, virtual). Nickinson was reflecting on how the service at the Leicester Vascular Limb Salvage (VaLS) clinic adapted to changes implemented in response to COVID-19.
The COVID-19 pandemic has had a "dramatic effect" on the provision of vascular services across the UK, Nickinson began. Focusing on hospitals in Leicester specifically, he detailed that, at the peak of the first wave, the University Hospitals of Leicester NHS Trust had over 200 inpatient cases on some days. Even during May and June, Nickinson added, "when many other services were starting to get back to normal across the country," there was still a large inpatient volume of cases in Leicester.
Considering the situation in the city more widely, Nickinson stressed that Leicester as a whole has been badly affected. "Rather ignominiously," he noted, "it was the first part of the country to undergo localised lockdown restrictions, and it could be argued that it has never left lockdown". During the summer, Leicester was an "outlier", with comparatively low rates of infection across the UK. "Trying to run any sort of healthcare service against this backdrop is very difficult," he commented.
The rapid-access Leicester VaLS clinic opened in February 2018, and—before the pandemic—was open to referral from any healthcare professional, with the only referral criterion being suspicion of chronic limb-threatening ischaemic. With dedicated assessment and treatment protocols, the clinic was managing to revascularise patients within eight days of referral, Nickinson informed the audience.
"I think it is safe to say that a resource-intensive service like [VaLS] really does not mix with a global pandemic like COVID," the presenter remarked, recalling that in March, the vascular ward was converted into a COVID-19 ward, a number of staff had to move on to emergency rotas or were shielding, and the clinic lost some theatre and interventional radiology capacity, reducing their ability to revascularise patients.
Nickinson relayed that, at the start of the pandemic, the team were concerned that they may have to completely shut the service. However, they decided early on that they wanted the clinic to continue, "at least in some form," and "were willing to make changes and adaptations in order to survive".
He outlined that they key change during this period was the implementation of a COVID protocol, which aimed to focus what limited resources they had available at the time on those patients at highest risk of amputation. Instead of trying to treat everyone, as they were doing before, the team used an objective clinical measure—the Wifi score (Wound, Ischaemia, foot Infection)—in order to identify those patients who needed treatment the most.
In addition, Nickinson stated that the team incorporated VaLS into a broader urgent vascular clinic, in order to benefit those patients with other urgent pathologies, and tried to maximise theatre capacity by shifting some wound debridements to a dedicated treatment room, to be performed under local anaesthetic. Finally, he noted that the team shifted their daily face-to-face multidisciplinary team (MDT) discussions online.
Looking at the figures in the period from March to July, Nickinson told the VS ASM audience that the team assessed 166 patients, 84 (50.6%) of whom were diagnosed with CLTI. Of those 84 patients, 55 (65.4%) underwent revascularisation, 25 (29.8%) were managed conservatively, and four (4.8%) had primary amputations.
Considering how the revascularisation rate changed from before COVID-19 to after the implementation of the COVID protocol, Nickinson detailed that this dropped from 74.9% to 65.4%, and that the time from referral to revascularisation increased from eight to 10 days during COVID-19. "Crucially," Nickinson emphasised, "we managed to continue the vascular service, at least in some form, and managed to assess quite a few patients during the that time".
Reflecting on the changes made in response to COVID-19, Nickinson acknowledged that the protocol is "probably too strict," noting that the team revascularised more patients than they were expecting to between March and July. He added: "It is also important to say that, despite all the hard work and effort, it does not help those patients who had difficultly accessing community services in the first place; we expected a surge, which we did see later on in the summer".
Nickinson's key take-home message was that "pursuing perfection during this difficult period was not an option" and that services like VaLS trying to continue in the face of a pandemic "really is not going to work, and could lead to the service completely collapsing". Instead, Nickinson believes the team have shown that small changes, primarily focusing on objective clinical measures, like the Wifi score, can allow an effective service to continue during the extremes of the pandemic. "That is going to become more important as we progress into winter," he stressed.