A new study suggests that the familial risk of abdominal aortic aneurysm is much higher than previously thought and this excess risk is highest both in female relatives and in relatives (of any sex) of female patients. According to Hence Verhagen (Rotterdam, The Netherlands), who presented the study at the Charing Cross Symposium (CX; 24–27 April, London, UK), these findings indicate focusing screening on first-degree relatives of aneurysm patients may be a more effective approach.
Verhagen observed that a recent UK study found that, following the introduction of a population-based screening programme for men aged >65 years, the incidence of aneurysm was "lower than expected". He added: "To raise efficacy, screening of subpopulations at high risk—i.e. targeted screening—may be a better alternative."
One subpopulation may be people with known family history of aortic aneurysm, with Verhagen noting that 20% of aneurysm patients have a positive family history. "The majority of the studies looking at this have been directed at finding aneurysms in male relatives of mostly male patients. Very little is known about the risk for female relatives or if there are different familial risks for female and male aneurysm patients," he commented.
Therefore, the aim of the present study was to evaluate the risk of aneurysm in relatives of aneurysm patients with a specific focus on the risks for female relatives and those associated with female patients. Verhagen explained that it would address three key questions: would family screening of aneurysm patients' relatives reveal a specific category of patients at risk of aneurysm? Do female relatives of aneurysm patients have a higher risk than male relatives of developing an aneurysm? And, do relatives of female aneurysm patients have a higher risk of developing an aneurysm?
In the cross-sectional, observational, single-centre study, aneurysm patients were interviewed using a family history questionnaire. A familial aneurysm relative was defined as someone who had at least one first-degree relative with an aneurysm.
Of 590 patients interviewed, 22 had a family member who was also participating in the survey; therefore, only the first diagnosed aneurysm patient was included. After excluding patients with a relative already in the study, data were available for 568 patients. Of these, 128 (23%) had a relative with an aneurysm. In this familial aneurysm group, 68% had one relative with an aneurysm, 23% had two relatives, and 9% had three or more relatives.
Verhagen reported that, overall, the relatives of patients in the study had a 6.4% risk of aneurysm. However, when patients were analysed by sex, relatives of a female patient had a 9% risk of aneurysm and relatives of a male patient had a 5.9% risk of aneurysm.
"If you are male with a relative with an aneurysm," Verhagen said, "your risk is 1.7 times that of a person without such a relative. If you are female, it is 2.8 times that risk." Furthermore, the study showed that the risk of aneurysm in men with a relative who is a female aneurysm patient is 11%; this risk is two times the aneurysm risk of the general population. However, women with such a female relative have a 7% risk—5.5 times the risk of aneurysm seen in the general population.
Commenting that recommendations for family screening vary, Verhagen stated: "Our data support targeted screening of all first-degree relatives of aneurysm patients, irrespective of sex. To increase efficiency, screening family members of aneurysm patients may be a valuable alternative to population screening." He added that starting screening at the age of 50 "seems reasonable", as 7% of aneurysm patients worldwide are younger than 60 years and "no data exist on growth rate in familial abdominal aortic aneurysm".
The significance of LUCY trial is "the non-significance"
Following Verhagen's presentation, in the same "EVAR in women controversies" session at CX, Jennifer Ash (Champaign, USA) outlined the early results of the LUCY study—the first prospective study to specifically evaluate endovascular aneurysm repair (EVAR) in women. She stated that, in the study, women had similar 30-day outcomes to men.
According to Ash, women have historically been under-represented in EVAR trials as they "only represent 10% of patients enrolled in EVAR investigational device exemption (IDE) trials". Therefore, the aim of LUCY was to provide further data in this area, with Ash commenting: "The reason this trial was called LUCY was because, as some people may know, the famous US comedian Lucille Ball actually died of a ruptured aneurysm."
In this prospective, multicentre study, men and women were enrolled in a 2:1 ratio (149 men and 76 women). The primary endpoint was the rate of major adverse events within 30 days of the procedure. EVAR was performed with the Ovation stent graft (Endologix).
Ash noted that the vascular characteristics of the female patients were "pretty routine" for what is seen in clinical practice female patients. She observed that, as has been seen in previous studies, women had significantly more complex anatomy—for example, juxta-renal angle was significantly increased (26.6±19.2 vs. 23.1±3.1; p<0.01). Also, proximal neck length was decreased in women but not to a significant extent.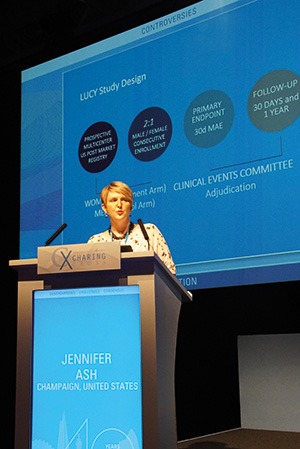 Ash stated: "The significance of this trial is essentially the non-significance as, at least in this trial, there was no significant difference when it came to procedural outcomes between men and women." She added that there was also no significant difference between groups in terms of major adverse events. This included all-cause mortality, renal failure, and respiratory failure. Furthermore, there were no stent occlusions in either group and there were no stent migrations. "The women actually fared a bit better than men in terms of type Ia endoleak, which is a little surprising given that access was perhaps a little more hostile in the female population," Ash said.
She concluded: "What we know is that women traditionally have a limited eligibility for endovascular repair and worse outcomes. LUCY is the first prospective study to specifically evaluate EVAR in women, head-to-head with their male counterparts, and we found at 30 days that—at least in this trial—women and men experience similar outcomes after EVAR, both procedurally and in terms of adverse event rates."
The findings of LUCY were supported by a study from Chiara Mascoli (Bologna, Italy) and colleagues. Presented by Mascoli immediately after Ash presented LUCY, this study reported encouraging results for the use of new-generation EVAR devices in women.