Following his 2021–2022 presidency of the Vascular Society of Great Britain and Ireland (VSGBI), Jon Boyle (Cambridge University Hospitals NHS Trust, Cambridge, UK) speaks to Vascular News about his career so far. He also shares his thoughts on the future of vascular surgery, anticipating that the management of peripheral arterial disease (PAD) will become a more prominent part of vascular practice due to an ageing population and increased prevalence of diabetes, and details some of his present work in this field. He tells aspiring surgeons that, although COVID-19 and a lack of resources have "cast a shadow" over the last couple of years, he has "no doubt medicine will continue to be a thoroughly rewarding career". Outside of medicine, Boyle shares his love for sport, and details his involvement in various charity fundraising events.
Why did you decide to pursue a career in medicine and why, in particular, did you choose to specialise in vascular surgery?
I never really had a strong desire to be a doctor, but ended up in medicine because I was good at science at school. I chose vascular surgery after working in Leicester, UK, as a junior doctor for Professor Sir Peter Bell, Professor Rob Sayers and Professor Matt Thompson. I undertook my MD thesis in Leicester from 1995–1997 on the early development of endovascular aneurysm repair (EVAR). I hand-sewed 45 endografts implanted into abdominal aortic aneurysm (AAA) patients during this time.
Who were your career mentors and what was the best advice that they gave you?
As above to a certain extent. Rob Sayers raised the importance of research in postgraduate surgical training and strengthening this string to my bow helped my rapid career progression. Matt Thompson supervised my higher degree. I am very grateful for a number of my trainers, but in particular would mention Spero Raptis, Rob Fitridge, Michael Berce and Larry Ferguson who supervised me during my senior registrar year at the Royal Adelaide in Australia in 2002, and also Graeme Sutton, Gareth Morris, Mike Phillips, John Cook, Mark Pemberton and Derek Finnis from my Wessex vascular training programme.
What has been the most important development in vascular surgery during your career so far?
The development of endovascular surgery.
What has been the biggest disappointment? Something you hoped would change practice but did not?
From personal experience, the failure of endovascular aneurysm sealing (EVAS). With better medical device surveillance, we would have recognised that these devices were failing much sooner and prevented many patients from being treated with this poorly performing endoprosthesis.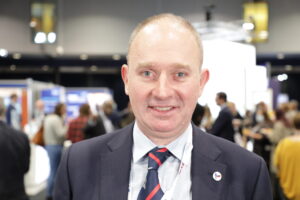 How do you anticipate the field might change in the next decade, and what development would you most like to see realised?
I think management of PAD will become a bigger part of vascular practice due to the ageing population and increased prevalence of diabetes. We now recognise that early treatment of chronic limb-threatening ischaemia (CLTI) prevents amputation and death, and I hope increased focus on the urgent management of this patient group will improve outcomes.
What are the biggest challenges currently facing vascular surgery?
Increasing workload related to the ageing population and insufficient vascular surgeons to deliver care.
What do you think has been the most important paper published in the last year?
'Surgery or endovascular therapy for chronic limb-threatening ischaemia' by Alik Farber (Boston Medical Center, Boston, USA) et al, published in the New England Journal of Medicine. This paper outlined results from the BEST-CLI trial, which showed that surgical bypass with adequate single-segment great saphenous vein is a more effect revascularisation strategy for patients with CLTI.
What have been the highlights of your VSGBI presidency?
I spent 10 years working on the VS council in various different roles. I am most proud of the work I led on PAD quality improvement, aortic device capture within the National Vascular Registry (NVR) and the achievement of CLTI Commissioning for Quality and Innovation (CQUIN) in England for 2022–2023.
You were the clinical lead for the UK NVR from 2017–2020. Could you give a brief overview of your time in this role?
I felt it was important, following our experience with EVAS, that we started to collect aortic device-specific information within the NVR. This work was extensive and required collaborating with many stakeholders, and also working with the National Joint Registry team leaders in registry device capture. The aortic device dataset went live in July 2020 and is recognised as an international exemplar. I also led the team responding to the vascular Getting It Right First Time (GIRFT) report in developing the PAD-Quality Improvement Framework (PAD-QIF) and also the PAD-Quality Improvement Programme (QIP). I obtained funding for two PAD-QIP research fellows supported by the Circulation Foundation, VS and Royal College of Surgeons of England. I also led the introduction of COVID-19 fields to the NVR in April 2020, shortly after the start of the pandemic. This early addition of vital data fields has enabled a good understanding of the impact of COVID-19 on vascular patients to be gained and a number of reports and research publications. In 2020, the NVR team won the Healthcare Quality Improvement Partnership (HQIP) team of the year report. HQIP stated that "the National Vascular Registry team showed considerable initiative in looking beyond the audit to consider innovations to benefit patients. The nomination demonstrated outstanding work on registry device capture, quality improvement and a rapid response to COVID-19".
What has been your most memorable case?
I introduced EVAR for ruptured AAAs in Cambridge, UK. One of my most memorable cases was being asked to see a ruptured thoracoabdominal aortic aneurysm in a man who was an inpatient at a non-arterial hospital. I arranged his transfer to Cambridge on a Friday afternoon, a thoracic endovascular aortic repair (TEVAR) graft to be delivered from a London hospital and then fixed him on Friday night. This was the first TEVAR rupture treated in Cambridge; the patient survived and lived for many years.
What advice would you give to someone looking to start a career in medicine?
Medicine has been a very enjoyable career for me over the last 31 years. Although the pandemic and lack of resources have cast a shadow over the last couple of years, I have no doubt medicine will continue to be a thoroughly rewarding career.
What are your hobbies and interests outside of medicine?
I still play a lot of sport: hockey in the winter, cricket in the summer, and cycling. In 2013, I organised a 24-hour hockey match (12 hours in Sydney, Australia, 12 hours in Cambridge) for a university friend with pancreatic cancer. We raised nearly £50,000 for Pancreatic Cancer UK and MacMillan. I have done a number of charity cycle rides for Pancreatic Cancer UK, including London to Paris and the Circulation Foundation Ride London twice, and was part of the team that rode across the Outer Hebrides in 2021 for the Circulation Foundation. Overall, I have helped raise over £80,000 for charity.
I also enjoy spending time with my wife, Patricia, and three children, and have been fortunate enough to travel extensively over the last 20 years. I have been one of six owners of my local village pub, The Lidgate Star, for the last 11 years, and I am also active on Twitter—my handle is @jonnyboyle1.